I don't know any more what it used to be

Before I saw you at table sitting across from me

All I can remember is I saw you look at me

And I couldn't breathe and I hurt so bad I couldn't see.
I couldn't see but just your looking eyes

And my ears was buzzing with a thumping noise

And I was scared the way everything went rushing around

Like I was all alone, like I was going to drown.
There wasn't nothing left except the light of your face,

There might have been no people, there might have been no place,

Like as if a dream were to be stronger than thought

And could walk into the sun and be stronger than aught.
Then someone says something and then you spoke

And I couldn't hardly answer up, but it sounded like a croak

So I just sat still and nobody knew

That since that happened all of everything is you.
— Edwin Denby (1903- 1983).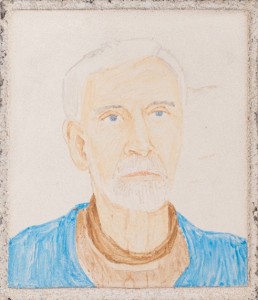 George Schneeman, Edwin Denby, 1977, fresco on cinder block. Private Collection, New York
 Another time I wondered aloud to Alex Katz about how few, if any, new poems by Edwin were appearing. As Ron Padgett put it later, "He kept revising his new pieces out of existence." I had seen Edwin's notebook open on a table in his Chelsea loft—two pages of lines in black ink, almost all crossed out. "He's conceited," Alex said. "He thinks he's better than we are." What Alex meant, I think, is that Edwin's standards wouldn't allow him to write the sometimes awful stuff that most poets need to write to get to the good things, the poems, anyway, that one can bear.
Encouraged by his heroes de Kooning and Balanchine, and by continuously re-reading the poetry of Whitman and Dante, Edwin set himself very high standards, indeed. In de Kooning's paintings he found himself reacting to "the beauty that instinctive behavior in a complex situation can have—mutual actions one has noticed that do not make one ashamed of oneself, or others, or of one's surroundings either," then commented, "I am assuming that one knows what it is to be ashamed. >> — Bill Berkson. For more of Bill's reminiscence, click here. >>









Related Stories